The Swedish Printmakers' Association
The Swedish Printmakers´ Association was founded in 1910 by a handful of artists with the intention, then as now, of furthering the interests of printmakers, arranging print exhibitions and distributing information about printmaking as an art form. The Association has worked internationally from the very beginning, exhibiting in many countries, and arranging print exhibitions from abroad.

The Swedish Printmakers´ Association runs a gallery from which there is a vast network of contacts to other printmakers´ collective workshops and printmakers´ associations in Sweden and abroad.
The Association functions as an information centre and meeting point for those who appreciate prints and for artists who are printmakers.Its members are testing and extending the boundaries, if indeed there are any, of printmaking.
It is a collective of some 430 active printmakers encompassing just as many means of expression.
A jury chooses new members every year. Work is submitted and qualifications are assessed.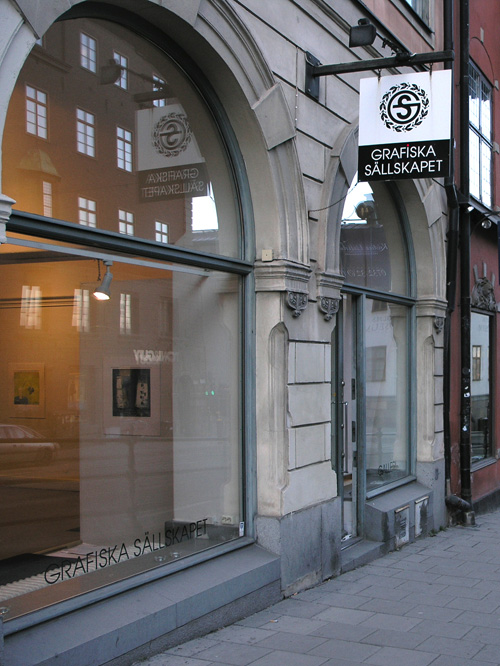 Presentation of Artists
All artists on Grafiska Sällskapet are represented with an individual page.
Artists shown in name order:
https://grafiskasallskapet.se/konstnar/konstnarsregister/
And as an image gallery:
https://grafiskasallskapet.se/konstnar/bildgalleri/
If you find a print interesting, you can make an inquiry by clicking the email form on top of each page named:
Intresserad av ett verk? Mejla oss!
Here, you write the name of the artist (Konstnärens namn)
The title of the print and your name and email address, the gallery will then get back to you as soon as possible.

Apart from the actual artist -printmaker members there is also a group of supportive members consisting of approximately 500 persons paying a yearly membership fee. They receive a portfolio of three prints every year and can purchase prints from the gallery with a ten per cent rebate. They receive "PRINTNEWS" free of charge for one year, have free admission to exhibitions organised by the Association and receive invitations to every opening of the gallery exhibitions during the year. Supportive membership costs 2 200 Swedish crowns per year. These fees provide an important financial support for the Association and its members.
Presentation of The Swedish Printmakers' Association (Youtube Video)
---
Application for membership in the Swedish Printmakers´ Association
(Grafiska Sällskapet) 2023
Info & Application form (pdf)
Members are chosen from among professional artists or art students, living and working in Sweden, who are prominently using printmaking as an artistic means of expression. The annual fee for student members is reduced to 50% of the ordinary fee whilst they are still studying but not if they are students on further education courses. Membership is granted by the board of governors on the recommendations of the Association´s jury. See paragraph 10 of the membership rules.
---
Location & Accessibility
Hornsgatan 6, 118 20 Stockholm
Subway
Slussen

Taxis:
Nearest Location of taxi is about 70 m from the gallery, the entire route is suitable for wheelchairs, even electric ones.
Wheelchair accessibility:
The showroom is located on the ground floor.
There is no door opener and the threshold is about 10 cm high.
For electric wheelchairs please give us a call in advance. +46 0643 88 04
email: galleri@grafiskasallskapet.se
The toilet door is 59 cm wide, inner dimensions 120 cm x 190 cm